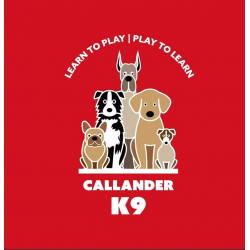 Leah Rendall
Callander

IMDT Member
Overview
Grand finalist winner in the Scotland Business Awards 2021 for "Best Pet Care Business"
Callander K9 offers FUN innovating games based training to resolve any struggle you may be having with your dog whilst building an incredible bond between you both.

I offer puppy programmes, life skills courses. Loose lead, recall, scent, confidence and calmness workshops. 121 training for those who would prefer 121 sessions or those dogs that cannot cope in a group setting.

I offer dog sports such as Hoopers for those who are looking to learn something new, keeping your dog healthy and fit and building a stronger bond together and agility.
Training walks, home boarding and I'm a qualified KAD trainer specialising in children with a fear or over excitement with dogs.
Training Services
Adult Classes

Puppy Classes

1-to-1 Training

Agility

Scent Detection/Tracking

Hoopers