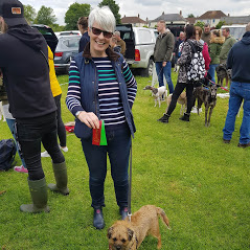 Heather Dugdale
Irvine

IMDT Member
Overview
My name is Heather Dugdale , and after many years of working with the Council as an IT Technician I decided to start studying dog behaviour in the hope that I could become a Dog Trainer when I retired, lucky enough for me I was given the opportunity to take early release (sounds like a prison sentence!) and follow my passion . In 2017 I gained an Ofqual recognised level 4 Diploma in Canine Behaviour Management and Training from Animal Jobs Direct, and passed an Animal Behaviour and Welfare course from the University of Edinburgh, successfully completed a Dog Emotion and Cognition course with Duke University and went on to assist a fully qualified Kennel Club Instructor with her Training Classes , which where invaluable, and gave me the hands on experience I needed to start my own classes.
I continued my education and became a member and accredited trainer with the IMDT , having passed my exam with a distinction in 2021. At present I am also a member of the Kennel Club and my club is listed for the Good Citizen Award Scheme, which is probably the most well known dog training scheme in the world, but there is no pressure for you to sit any exams, just have fun training and if you change your mind you can go for it! so if you would like to find out more then please visit https://www.thekennelclub.org.uk/training/good-citizen-dog-training-scheme/ . I also provide 1-2-1 training for those people who need to set their own timetable.
In the distant future my hope is that I can study behavioural science and be able to add behaviorist to my list of services.
Training Services
Adult Classes

Puppy Classes

1-to-1 Training

Behaviour Consultations