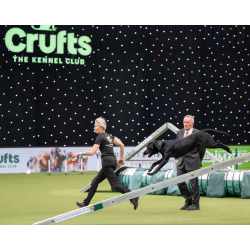 Maria Haage
Ballynahinch

IMDT Member
Overview
Puppy classes for puppies up to 6 months old
Post-puppy classes for adolescents and adult dogs with no previous formal training
Improvers classes for dogs that have previously attended Puppy or Post-puppy classes
1-2-1 New Puppy foundation training
1-2-1 Puppy to adolescent - building on foundations
1-2-1 Agility - from foundation upwards
Rally 1-2-1 sessions and small classes

I have over 10 years experience of helping owners developing their pet dog training skills.
10 years experience in Agility, including 4 years teaching. I have experience of training for and competing at the highest levels of agility, including at the World Agility Open, European Open and Crufts.
I also have experience of training for competition at a high level in both Obedience and Rally.
Training Services
Adult Classes

Puppy Classes

1-to-1 Training

Agility

Rally