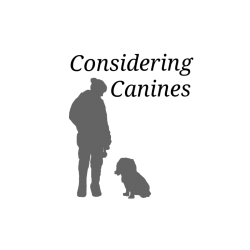 Katie Harris
Woking

IMDT Member
Overview
IMDT Certified Trainer and Member using Positive, Reward based and Force Free modern Training Techniques

Considering Canines Ltd is a company passionate about dogs, with a particular interest in working towards building a comprehensive understanding of their needs, wants, and desires, and using this information to build a positive, enriching, and harmonious relationship between dog and owner.

Our services are built on the foundations of the undoubtable love and passion for your dogs. Using positive, reward-based training, and walking services to help guide and support you through each stage of their lives.

We ensure dogs are given both the physical and mental enrichment on which they thrive, in addition to providing the tools you need to enjoy the special bond between dog and human, working towards fulfilling all aspects of your lives together.

Our main area's of expertise are-
- Pet dog training (both group classes, workshops and 1:1's) ranging throughout each life stage (puppy, adolescent and adult dog training)
- Gundog Training specialism with links to fun obedience.
- Experience training assistance dogs (case dependant)
- General rescue dog training (obedience and engagement type training).
Other services Katie offers are dog walking (option of group walks, One on One walks and training walks).
Katie's true passion is building a great working relationship with all her clients in order to provide a high quality service people can trust. Ensuring everyone she teaches feels comfortable, reassured and guided.

​
​
Training Services
Adult Classes

Puppy Classes

1-to-1 Training

Activity

Online / Remote Training

Gun Dog Training