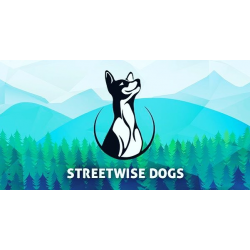 Layne Arlina
Hereford

IMDT Member
Overview
Streetwise Dogs is run by Layne Arlina, an accredited Dog Training Instructor with the IMDT . Layne also offers Behaviour Consultations and Canine Complementary Therapy to work through complex canine behaviour issues. If you're looking for fun and functional obedience training, or an insightful and supportive behaviour intervention, Layne can help.

Being the guardian of a recovering-reactive Staffy dog, Layne personally understands the dog-related challenges and isolation that often come hand-in-hand. Dog aggression is an issue that once consumed Layne's life, as her rescue dog showed aggression towards people, other animals and unexpected objects at any given opportunity. Those challenging years rehabilitating her dog while studying with the IMDT gifted Layne essential dog-handling skills and a deep understanding that academic study alone could not have offered - gold dust!

STREETWISE DOGS exists to prevent and reduce these struggles by offering easy-to-apply, effective and enjoyable action plans. Support comes in the form of group classes, 1-2-1 training sessions and behaviour consultations that are held at various locations depending on the exercise.

As a down-to-earth, Behaviour Science nerd and keen problem-solver, Layne passionately applies force-free, science-led, reward-based techniques. Her drive and dedication to understanding the vast field of psychology and behaviour is matched only by her desire to compassionately motivate dogs and their people.

If you are keen to achieve a better partnership with your dog when training for obedience, or to reduce canine anxiety or aggression, get in touch and we'll discuss your options - there may be more than you imagine!
Training Services
Adult Classes

Puppy Classes

1-to-1 Training

Behaviour Consultations