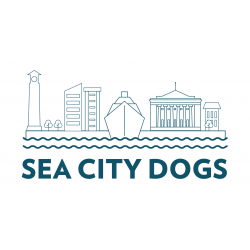 Sherree Stanley Conroy
Southampton

IMDT Member
Overview
I'm Sherree Stanley Conroy.

I have been working as a dog trainer since 2011 and in 2015 I became a full member of the IMDT. In 2016 I qualified as a Tellington TTouch Practitioner after 3 years of training and assessment. I also started working part time for a national assistance dog charity, a role I simply adore because I get to see first hand the way these amazing dogs transform lives.

At the end of 2019 I set up Sea City Dogs to allow me to focus on working with dogs living in the urban areas of Hampshire. Then in January 2020 I was given the amazing opportunity to become an Associate Tutor for Sarah Fisher's Animal Centred Education (ACE).

Many of our dogs will live their entire lives in urban or suburban areas. This busy, noisy world can be a real challenge for our dogs, so they need us to help them develop skills that equip them for this environment.

Most of us don't need a Collie that can round up sheep or a Labrador that can pick up shot ducks. What we actually want is a confident companion who is calm in our home, happy in a busy park, and can settle next to us in a cafe or pub. The reality is though, all of these things can be tough for a dog that was bred for something more specific.

My training aims to helps young pups learn how to relax and thrive in the human world; to teach older dogs activities that give them an outlet for natural behaviours; and to help families with dogs that are struggling with day to day issues.

I offer puppy classes, courses for older dogs and Tracking classes. In addition I offer home visits for more challenging behavioural problems.

Please do ring me for more information.
Training Services
Adult Classes

Puppy Classes

1-to-1 Training

Behaviour Consultations

Scent Detection/Tracking