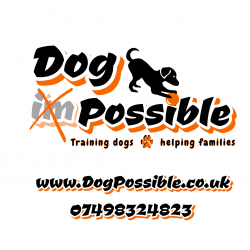 Rebecca Donnelly
Portsmouth

IMDT Member
Overview
We understand that there is no 'One-Size-Fits-All' when it comes to training pet dogs.
We appreciate that every dog and family's situation is different...
what will work for one may not be the right approach for another.
​That's why here at Dog Possible, the training is tailored to everyone's unique lifestyle and routines.
Offering easy to follow, fun, and professionally recognised force-free training that will suit even the busiest of families,
making training finally Possible to achieve.
Training Services
Adult Classes

Puppy Classes

1-to-1 Training

Behaviour Consultations

Activity

Online / Remote Training

Parkour