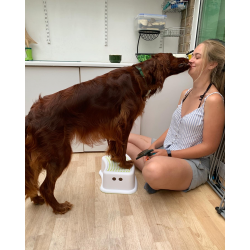 Heulwen Jenkins
Woodingdean, Brighton

IMDT Member
Overview
•BSc Zoology
•Scent Work and Tracking Instructor with UK College of Scent Detection
•Hoopers Instructor with Canine Hoopers UK
•Canine Body Language Instructor with The Dog Training College.

I am studying Clinical Animal Behaviour remotely at the University of Edinburgh while based in Woodingdean and offering training services throughout Brighton and surrounding areas.

I studied Zoology at the University of Sussex and set up the local community organisation, the University of Sussex Dog Walking Society (featured on the BBC, The Times, The Guardian, and The Morning Show). This organisation pairs dogs of local owners with university students who bring them to the University for group walks benefitting the mental health of the student body.

Growing up overseas, I volunteered for years at the Hong Kong Dog Rescue, working with dogs of all shapes, sizes, backgrounds, and behavioural issues.

While mentoring under the President of the Finnish Lapphund Association in Australia, I helped to care for expecting mothers and to raise multiple litters of puppies, learning the intricacies of puppyhood. As such I am happy to advise on care if you are planning a litter of puppies. During this time I also studied various dog sports including Working Pack Dog Trials & Endurance Fitness.
Training Services
Adult Classes

Puppy Classes

1-to-1 Training

Behaviour Consultations

Scent Detection/Tracking

Hoopers

Online / Remote Training