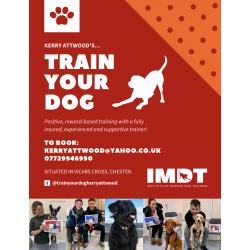 Kerry Attwood
Chester

IMDT Member
Overview
Compassionate, experienced trainers offering positive, reward based puppy classes in Vicars Cross, Chester.
We offer a 5 week puppy socialisation course covering all the basics you need for a new puppy.
Then, an advanced course building on the basics from puppy class, or for older, sociable dogs.
All training is reward based, be it food, toys, environment. I look forward to hearing from you, Kerry.
Training Services
Adult Classes

Puppy Classes

Online / Remote Training