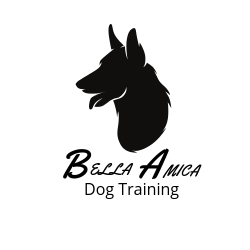 Andy Schooledge
Maidstone

IMDT Member
Overview
Bella
​
Bella is a stray who came over from Ireland. Suffering from severe anxiety and reactivity to other dogs and humans, she has coped with the trauma that her past has dealt her. She's also missing her tail, an event that possibly shines some light on her issues.
​
Andy
​
Adopting Bella, Andy has been able to put in to practice what he has learnt from extensive dog training. He has not only been able to help Bella rehabilitate to a calmer, happier state but has also picked up qualifications in Dog Training and Canine Psychology from the International School of Canine Psychology and the Institute of Modern Dog Trainers. He is also a fully qualified Canine First Aider. He is a proud member of the Insitute of Modern Dog Trainers practising only methods of training that support and reinforce good behaviours in a humane and constructive way.
​
Bella Amica Dog School
​
Bella Amica means 'Beautiful Friend' in Italian. Located at the Horseshoes Riding School on Dean Street in East Farleigh, the dog school aims to offer every dog the chance to enjoy life whilst allowing owners to feel confident and happy that their training is effective and also humane.
Training Services
Adult Classes

Puppy Classes

1-to-1 Training

Behaviour Consultations

Online / Remote Training